About

DCLab Robotic Club is a student project established with the aim of participating and winning the ABU Robotic Contest.
Established in 2018, our team has participated in the Cambodia Robotic Contests very year and continues to expand our activities.

At Institute of Technology of Cambodia, about 80% of the students are from different provinces of Cambodia which give us advantage in term of diversities. However, it is also a challenge that members have to understand the different background and way of thinking of other members. Therefore, it is crucial that each member units, and devotes himself earnestly to create a strong team. Since we welcome new members every year, in addition to creating robots, we need to create a team from scratch.
If you are interested to join, please visit us.
Let's make the world best robot together!

We are actively looking for sponsors to support our activities.
Please contact us if you want to support our team.

Members
As of 2020, there are a total of 10 members
- 3rd year: 9
- 2nd year: 1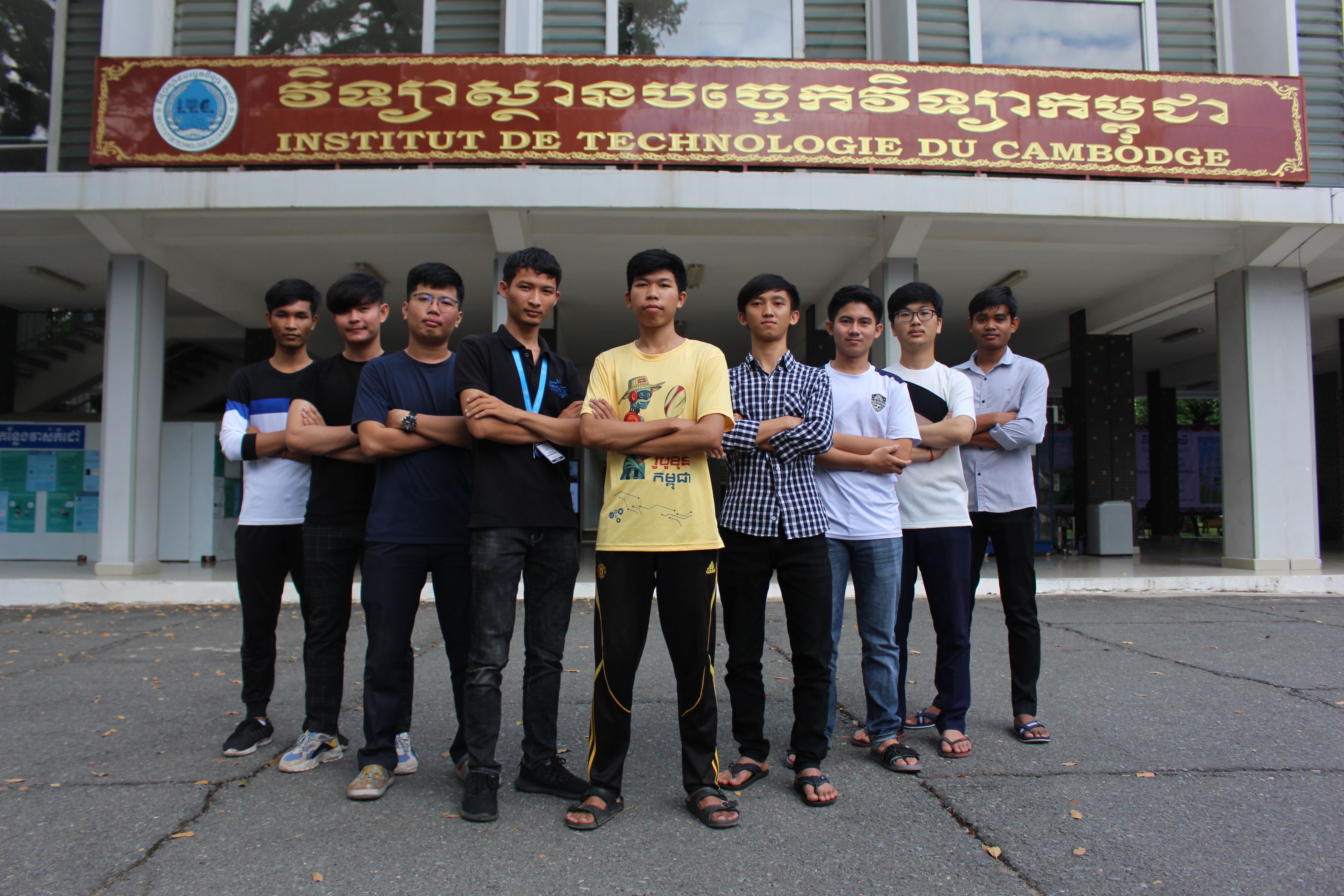 At Institute of Technology of Cambodia, we have a long vacation of 2 months (August - October).
From 2020, we have set up an online intensive program which seniors give technical guidance to juniors who are about to join the Robotic Club.

Former members >> click here

Activities
- Mechanical group: Robot design / manufacturing / material processing / maintenance
- Electronics & control group: Circuit design / production / programming / debugging / parameter adjustment for robots

At the present, our main activities are producing robots for Cambodia Robotic Contest.
In addition, we are actively engaged in activities such as exhibiting robots at exhibition event in the country.
In the future, to promote robotics and STEM education, we are also planning to create outreach activities such as providing robotic workshop and short internship program to high school students.


Working hours

- Weekday: 17:00 - 20:00
- Weekend: 9:00 - 17:00

Basically, you can go to the club at any time that is convenient for you.
Location

Located in Building I, room 602-I. The room is equipped with equipment and various machine tools necessary for robot production.

Computer equipped with robot design and programming software
- SOLIDWORKS
- KiCad
- Arduino IDE
- MATLAB

Machine tools for mechanical part manufacturing
- Lathes
- Drilling machines
- 3D printer
- Laser cutter
- Foam cutter

Circuit design and manufacturing
- Soldering booth
- Multi-meter
- Oscilloscope

Click here for more detail.

Recruitment

- 1st to 4th year student of Institute of Technology of Cambodia
- Those who like robots
- Those who like manufacturing
- No prior experience is required

The joy of creating a full functional robot that can join the competition is exceptional. DCLab Robotic Club is the place where you can feel the thrill.
Let's do our best together to win the competition.
Contacts
We are always looking for members.
Feel free to contact us by email.

E-mail: lyhour457@gmail.com (Lyhour San: robotic club team leader)